Performed by Mats Paulson in the late '60s.
There are women of many descriptions
In this queer world, as everyone knows.
Some are living in beautiful mansions,
And are wearing the finest of clothes.
There are blue blooded queens and princesses,
Who have charms made of diamonds and pearl;
But the only and thoroughbred lady
Is the Rebel Girl.
CHORUS:
That's the Rebel Girl, that's the Rebel Girl!
To the working class she's a precious pearl.
She brings courage, pride and joy
To the fighting Rebel Boy.
We've had girls before, but we need some more
In the Industrial Workers of the World.
For it's great to fight for freedom
With a Rebel Girl.
Yes, her hands may be hardened from labor,
And her dress may not be very fine;
But a heart in her bosom is beating
That is true to her class and her kind.
And the grafters in terror are trembling
When her spite and defiance she'll hurl;
For the only and thoroughbred lady
Is the Rebel Girl.
About The Drowned Girl
By Bertolt Brecht
On The Murder of Rosa Luxemburg
(Credit : Source)
As she drowned, she swam downwards and was borne,
From the smaller streams to the larger rivers,
In wonder the opal of the heavens shone,
As if wishing to placate the body that was hers.
Catching hold of her were the seaweed, the algae,
Slowly she became heavy as downwards she went,
Cool fish swam around her legs, freely,
Animals and plants weight to her body lent.
Dark light smoke in the evenings the heavens grew,
But early in the morning the stars dangled, there was light,
So that for her, there remained too,
Morning and evening, day and night.
Her cold body rotted in the water there,
Slowly, step by step, god too forgot,
First her face, then her hands, and finally her hair
She became carrion of which the rivers have a lot.
Originally uploaded by Noah Lange,this is a folk song about the Haymarket Riot of 1886.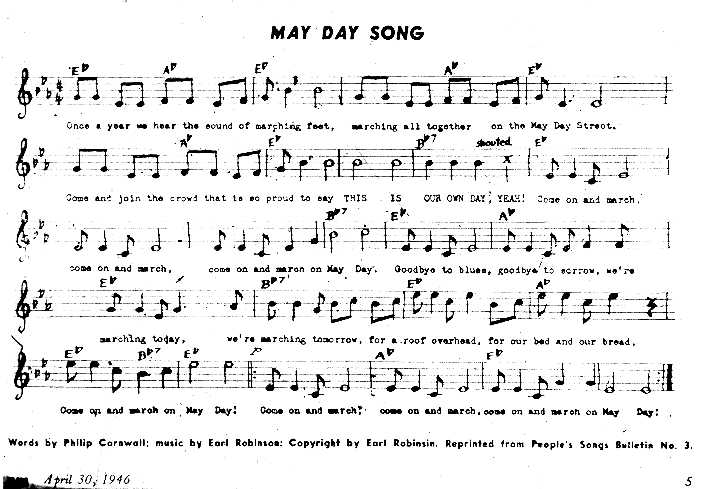 This is a musical piece titled 'May Day Song' created by Earl Robinson (the guy who wrote the 'Joe Hill' song). This particular wordless solely musical piece is absolutely genius on how it has been created,it can be played on a number of instruments and is a very simple yet fine tune that instantly charges up your spirit.
May Day
by
Sara Teasdale
A delicate fabric of bird song
Floats in the air,
The smell of wet wild earth
Is everywhere.
Red small leaves of the maple
Are clenched like a hand,
Like girls at their first communion
The pear trees stand.
Oh I must pass nothing by
Without loving it much,
The raindrop try with my lips,
The grass with my touch;
For how can I be sure
I shall see again
The world on the first of May
Shining after the rain?
by
Lola Ridge
--Albert Parsons
went to his death
singing Annie Laurie;
didn't another have
a rose in his coat--
or was it a pink--
dramatizing himself--
Blooded rose
stalk
hanging out of an empty
coat lapel,
or was it a pink carnation
rose color soft as sunrise
glimmering upon a gallows,
and streak of silver song
ravelled with the rain
on a filthy Chicago morning in the Eighties--
you shall outlast horizons.